Today I went for a little hike around Plano Texas to get some photos of old historic homes for future painting reference.  I have been doing digital paintings of Texas houses lately and I wanted to get some more references for some historic home sites.  Its going to be 102 today so no Plein Air painting today for me!  The first part of the tour had me at the park, which I have been to before.  Pretty nice park, I take Ada to the playground there from time to time – they have an old railroad train car hanging out as you walk in from the west.I got a little side tracked off the map after that, I ended up a bit further north and around a Super 8 hotel which wasn't exactly the architecture shoot I was looking for.  Back on track I headed east and got to view some really cool homes from the original downtown Plano.
Aldridge Home
Aldridge house, Plano Texas – photo: Eric VanSingel
Once back on track I checked out the Aldridge house built in 1907.  This Prairie style building was the home to Charles Aldridge – an important figure in Plano and Texas history.  My child will be attending Aldridge Elementary in the fall – which is the namesake of this gentleman.  He served on the student council, was a banker, land owner, and developed a cotton seed that became very popular for growing in the southwest climate.
Wall Robbins Home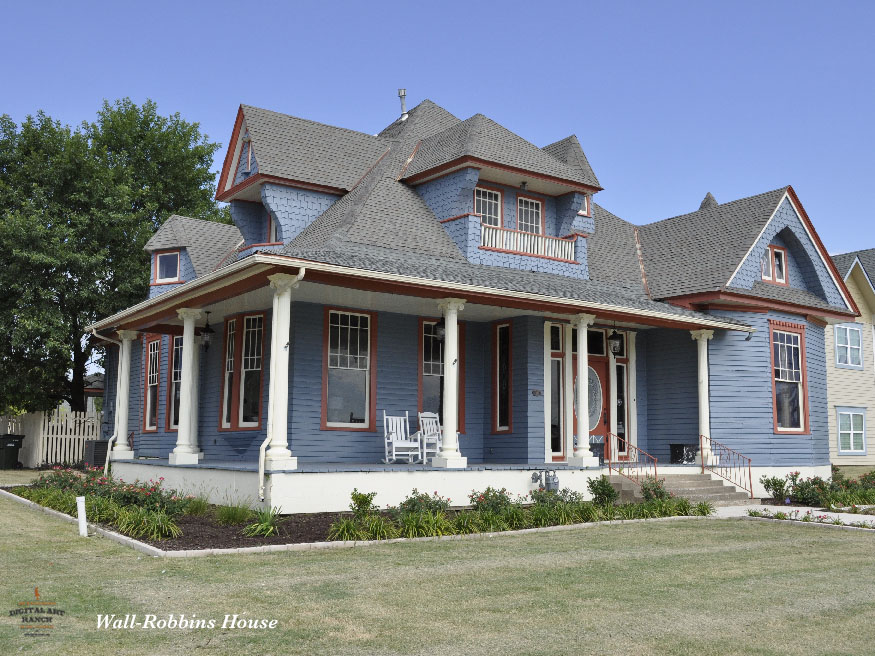 Wall-Robbins Home Plano, Texas – photo: Eric VanSingel
After a cool drink of water at the local filling station, I wandered north to the The Wall-Robins house built in 1898.  This is a great example of the Victorian style – one I am very used to seeing up north but rarely here in Texas.  Everything here is so "new"  its refreshing to see a few of these home's still around.  I wasn't able to go inside but it is my understanding that it as been renovated in the interior and functions as a wedding and event reception center.
Forman Home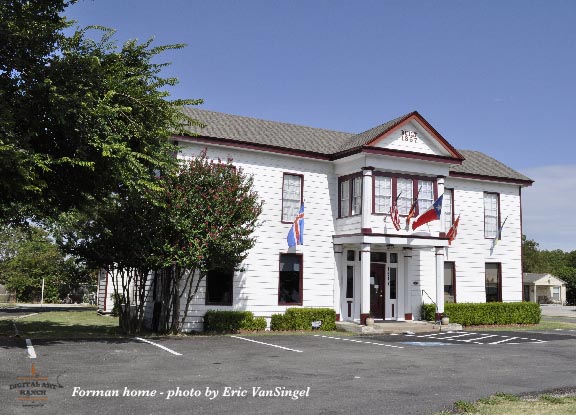 Forman Home, Plano Texas – photo: Eric VanSingel
My favorites were toward the end and includes the Forman house – built in 1867.  I can't pin down if this is the oldest standing home in Plano or not, but considering our location 1867 is pretty old.  Best I can tell it is the oldest standing home in Plano but don't quote me on that.  This Greek Revival style home was originally built on 2,000 acres by Joe and Elizabeth Forman.  Mr. Forman went on to be Mayor of Plano.  It is now a Scandinavian gift shop and cultural center, you can find out more about this home by visiting the history page at the Wooden Spoon.
Roller Home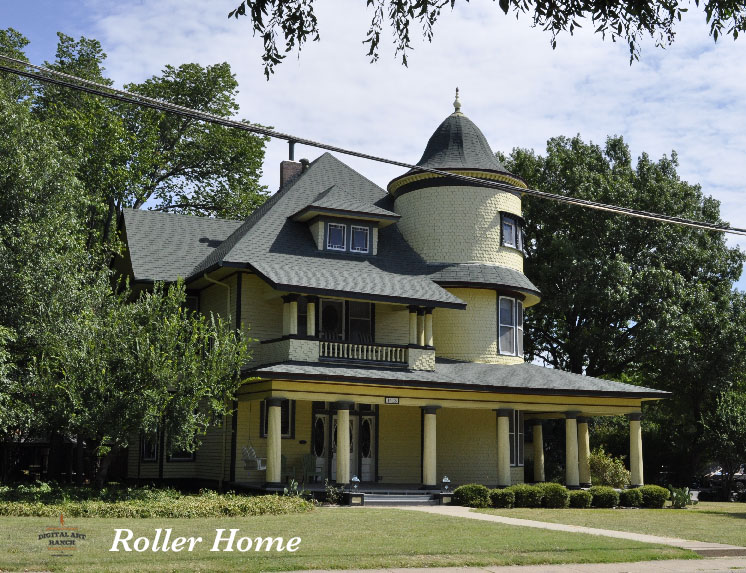 Roller Home Plano, Texas -photo: Eric VanSingel
It was definitely starting to get hot but when I happened across this home I thought the whole walk was worth it.  The Roller home is a Queen Anne style – built in 1901.  The sun was hitting the yellow paint in a very Edward Hopper sort of way and it really stood out!  The home was built by a lumber dealer A.G. McAdams, and was sold not much later on to Plano Civic leader E.J. Roller.  If you can imagine this, it was sold because the 5 hour buggy ride to Dallas was too long, and too far from town.  Today it takes 20 minutes on 75 or about 40 minutes on the DART rail to get from Downtown Plano to Downtown Dallas.  I think this will be the first one I do for my digital painting of historic Plano Texas homes series.
If you are interested in taking this walking tour yourself, I found this guide on the Plano.gov website.  I used this, the Plano Conservancy website, and the Wells Homeplace website for research regarding historical information in this article.
THANKS FOR READING!  Tell me in comments, what is your favorite historical home where you live?