My latest commissioned painting "Dog at the Co-Op" is complete!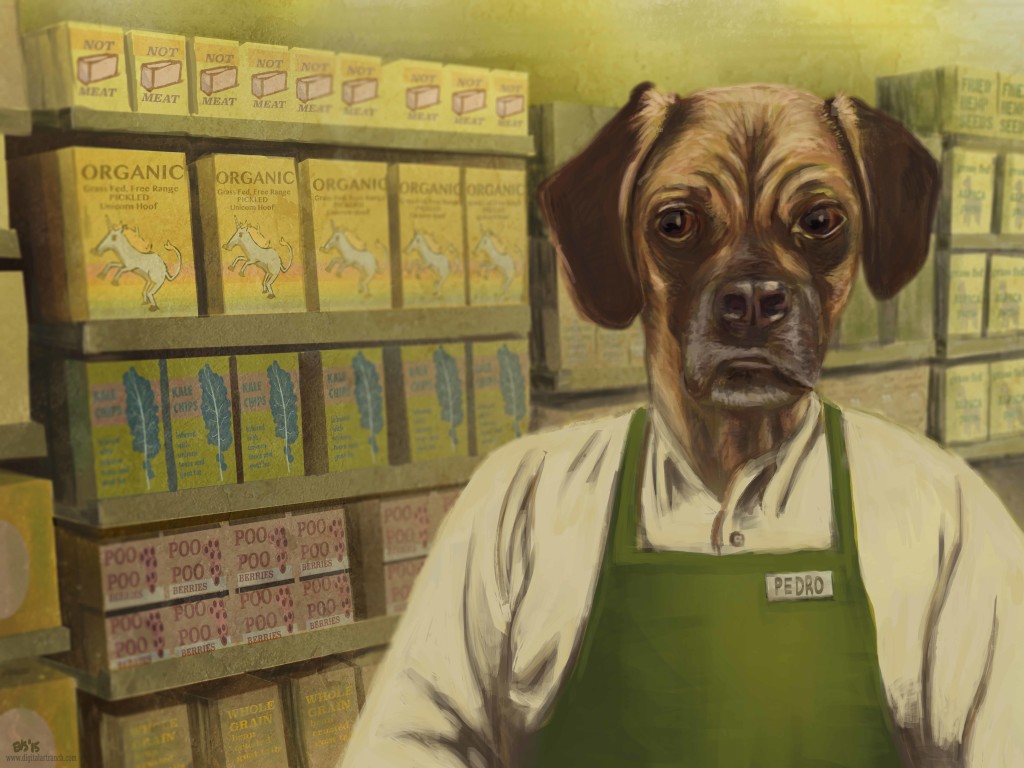 The mission was clear, to "paint my pet dog in a grocery store co-op setting with full artistic license."
I love full artistic license, but sometimes it can be super challenging to get the right composition and this was one of those challenges. No matter, I love painting dogs so it was easy for me to get to work.  I did many sketches and color studies before I ended up with the final product. It is a common misconception that an idea hits and the artist just goes with the first thing and its great right away. This took a lot longer than I thought it might, but that is only because of the work before the work.  Honestly sketching things out and figuring out the challenges before going into a final painting is the most important part of my job.  I have included a few of the beginning stage file showing the color study and composition sketch I used for reference on what the pup, and what the store would look like.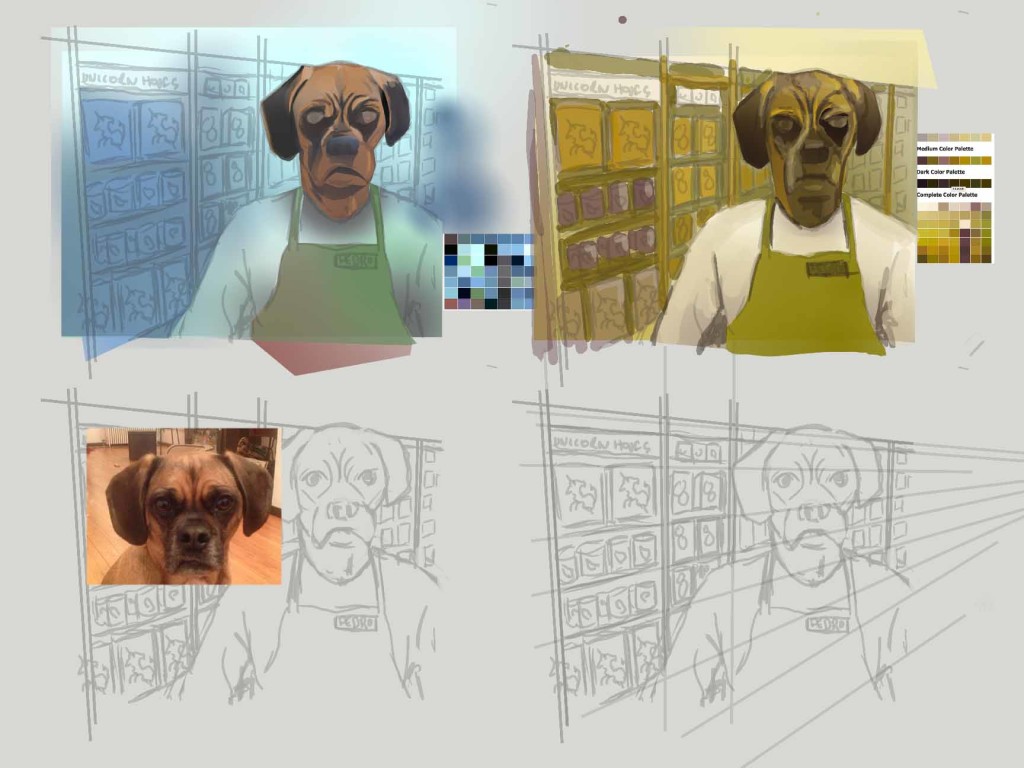 I usually do 3 color studies but when I went with the warm yellows and greens I knew right away this would be the best colors.  I actually had originally started this as a frozen section scene, and was thinking of using a lot of cool blues and greens.
Below, one of the early on sketches to work out what his face and body are going to work out as an anthropomorphic depiction as a dog as a grocer.
I had a lot of fun with this one and I am very happy with the final result.  The 24 X 18 stretched canvas is on its way to MN as I write this.  Folks following along know this but I am doing a lot of work right now painting peoples pets in unique situations, and painting homes and architecture – both of these subjects have been a lot of fun and I really see this as the direction for the bulk of my work for a while.
A few words on Meerkat, Periscope, and live streaming.
I streamed some of the live action of the sketches, color studies, and final painting progress on Periscope and Meerkat (these are live streaming apps – you can film and watch on your phone and both are really worth checking out).  If you are not already using these apps I highly recommend downloading them, they are free and I am not affiliated with either in any way other than using them.  What I would like however is if you do download either, please follow me so you can have a chance to see works in progress and my upcoming artcasts.  I am @ericvansingel on both platforms.  Please comment your user name below so I can be sure to follow you as well!  If you don't want to comment your user name for all to see that  is totally understandable – just comment that you are using it and shoot me an email or follow me in app so I can follow back.  THANK YOU!